COWIN-20
COVID-19 EMERGENCY - Governmental Purchase Hotline - N95 3M 8210 Niosh Respirators
In this time of need, R&R Consumer Healthcare brand 365 DOC facilitates urgent medical supplies and PPE for public organizations and governmental mandates.
Product Available: 3M – Model 8210  - Cost: From $1.00 (delivery in USA included) - Payment terms: Net 30 (pay after delivery)
Qualified Buyer: Hospitals, First Responders, Police, EMS or similar governmental organization with no current order loaded in 3M queue.
If you are a qualified buyer with the mandate to place a purchase order, email: vip-gov@roy-roger.com

Winning Together - United, Globally, 2020



Follow the advice from your local government.
The best way to prevent illness is to avoid being exposed.
#StayAtHome #QuedateEnCasa
DON'T FORGET TO FOLLOW & LIKE US - ENTERTAINING VIDEO AWARENESS CAMPAIGN ON INSTAGRAM @
BIOVENEBARCELONA
LIST OF HEROES, PARTNERS & CONTRIBUTORS BELOW:
*coming soon*
*18-05-2020 UPDATE* #ClapYourHands for Health Care Workers and First Responders! 
We are proud to support Quarantine Mansion and FirstResponderSource.com – we are now collaborating with the amazing @izadi and his team to bring awareness to health care workers on the front line, all around the world.We are starting the campaign for #COWIN-20 and we want to encourage our community to help us support first responders by providing essential protective masks for them through FirstResponderSource.com.
We also encourage you to post a quick video applauding #ClapYourHands to all doctors, nurses, police and first responders worldwide - who continue to battle the virus daily. 
Help us to spread the word by GOING TO OUR INSTAGRAM: @BioveneBarcelona - LIKING, COMMENTING OR TAGGING A FRIEND. PLEASE – If you have a moment, help us get this message to people who would be able to help and contribute. Please support any local organization or entity of your choice, such as highly recommended UNICEF or NHS who raised over £100,000,000 so far *AMAZING*- any action of kindness is appreciated - everywhere. 
MAKE A PLEDGE - LOCAL SUPPORT 

Do you want to contribute and help providing
Personal Protective Equipment (PPE)
for public service workers in your country/city/community?


#COWIN-20 IS FOR EVERYONE.
ALL COUNTRIES ARE IN NEED OF SUPPORT.


What We Stand For
Our enemy is the virus and anything trying to stop Personal Protective Equipment reaching the people who are in need, this includes suppliers seeking to profit and manipulate prices of this high-demanded PPE with limited availability.

Who This Is Not For...
People/Entities looking to purchase Personal Protective Equipment and resell high above market cost - or with intention to keep in storage/hoarding to limit the access for people with urgent needs.


Who This Is For...
People/Entities with a desire to support their communities and have no other access and options to acquire or donate Personal Protective Equipment.

#COWIN-20
Winning Together - United, Globally, 2020

SUBMIT YOUR REQUEST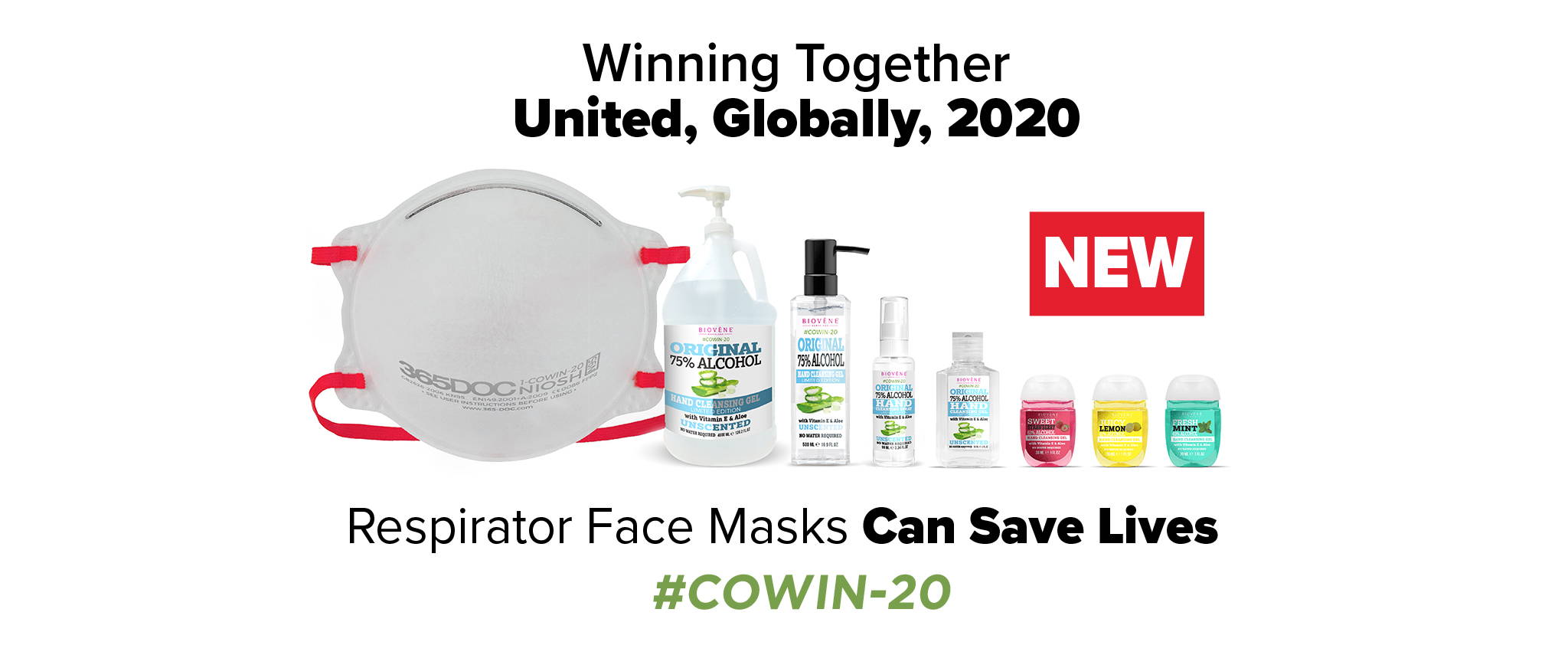 18 - MAY - 2020: Biovène to launch their largest giveaway campaign ever  #ClapYourHands with thousands of face masks and hand cleansing gels to you at home, social media influencers and Biovène Insiders helping out to create awareness, spread love and positivity.
6 - APRIL - 2020: Corporate announcement is coming - stay tuned: https://www.instagram.com/p/B-ptaiOCxdt/

31 - MARCH - 2020: Biovène Barcelona donates and deliver N95 Respirators to the local government in Spain, Catalunya - for Castelldefels, a total of 2500 N95 Respirators are now donated from the company to the city.

25 - MARCH - 2020: We have just made a small donation of N95 Respirators, delivered to our local government in Spain, Catalunya - for Castelldefels public sector workers - and retirement homes.It is with grade pride we see the action Spain has taken in the war against the deadly COVID-19 coronavirus, 
Biovène is dedicated to helping the Spanish government in any way requested to us. We are ready to prioritize our sourcing, inventory and supply lines to contribute and help Spain win the war against this invisible enemy.
We feel safe here in Barcelona, knowing the great people of this country are working well together (and really all countries are coming together) - things will soon get back to normal again. Stay positive and keep together with your family and loved ones.